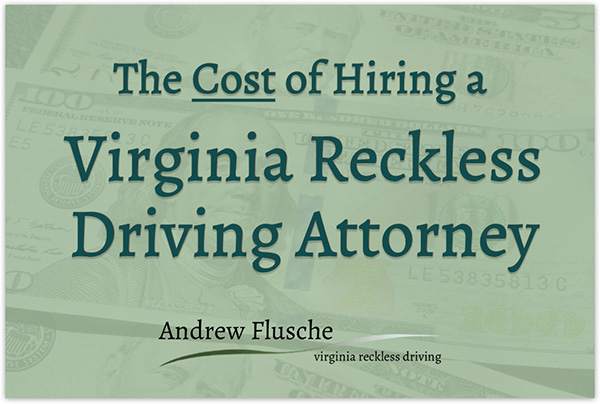 If you have received a reckless driving ticket in Virginia, the next step in the process is hiring an experienced traffic law attorney to represent your case.
But how much does a good reckless driving lawyer cost and what is the average cost for a traffic lawyer?
In Virginia, rates vary widely depending upon many factors.
Before you decide to spend too much or too little on an attorney, it is important to understand what the average cost of a traffic lawyer is and the scope of representation you will receive for your case.
How Much Does Attorney Andrew Flusche Charge for Virginia Reckless Driving Defense?
Here at the office of Andrew Flusche, the exact fee I will charge for reckless driving defense depends on the specifics of your case. I charge a fair, flat rate and I am always transparent about my fees. In general, my reckless driving defense fees are in the $1,000 to $1,500 range.
What's the cost of not hiring a qualified reckless driving attorney?
Before some people even think about a Virginia reckless driving lawyer's cost, they are asking whether it is worth it to hire a lawyer to begin with. My response is to consider what is at stake for you.
Depending on the specific facts of your case, more may be at stake. Some considerations for whether to hire a reckless driving attorney include the following:
Whether you are concerned about a criminal record for misdemeanor driving offenses
Whether you are worried about auto insurance costs
Whether you live out of state and want to travel back for court dates
Whether driving is one of your main job responsibilities
Whether you have a commercial driver's license
Whether you have or will need security clearance for your job
Whether you have had one or more traffic convictions in Virginia in the last five years
Whether you were ticketed for going more than ninety miles per hour
Whether the ticket was issued because you were involved in a traffic accident
If any of these considerations apply to you, then you should seriously consider hiring a Virginia reckless driving attorney to represent your case. The value you will receive from top quality legal advocacy will far outweigh a reckless driver Virginia lawyer's cost.
What Is The Cost of a Reckless Driving Attorney?
Every lawyer in Virginia sets their own fee for a reckless driving case.
Some advertise an incredibly low flat fee regardless of the facts, but these cookie cutter representations do not always provide the best representation for your case, especially if there are potentially serious repercussions on the table. Many of the cheap lawyers even pass their cases off to random lawyers to actually do the work.
You may think you're getting a bargain, but you may end up represented by someone you've never even met.
On the other side of the spectrum, simply because an attorney charges more does not mean that you will receive the best legal representation. Some lawyers take advantage of the dire situation clients face with a reckless driving charge and require more money to represent their case.
Expensive does not always equate to the best.
You need a lawyer that offers a reasonable rate but still provides you with the traffic defense you need to overcome your reckless driving charges.
At my office, I set a flat rate after a confidential review of the case with my client. I strive to provide an affordable rate for a top-quality defense. I carefully manage my calendar to make sure I will personally be at court for every single client.
I use technology and well-trained staff to help streamline our cases and control costs. This balance helps to ensure you receive the representation you deserve at a rate you can afford.
When you choose a Virginia reckless driving lawyer, cost should only be one part of the consideration. Before moving forward with a lawyer for your case, you should know the exact fee for representation, be able to pay with any major credit card, and expect to pay the legal fee before the case goes to trial.
Read Real Reviews from My Clients Who Mention My Reasonable Rates
Contact Me About Your Reckless Driving Case and I'll Provide a Fair and Transparent Cost Estimate
Have you been ticketed for reckless driving in Virginia and need quality representation for an affordable price? If so, my office is able to help. Call the office or contact me today to schedule a confidential consultation of your reckless driving case.