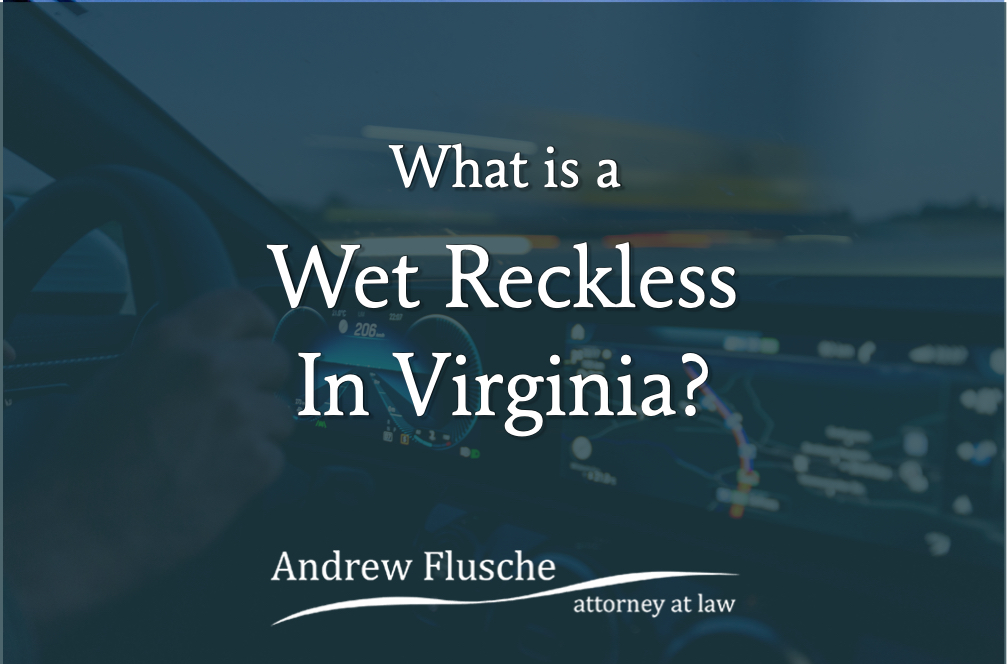 If charged with a DUI or DWI in Virginia, it may be possible to reach an agreement by pleading a lesser charge of a wet reckless driving. Although consequences of a wet reckless driving charge may mirror the consequences of a DUI or DWI conviction, multiple benefits exist to seeking a plea of wet reckless driving.
What Is a Wet Reckless?
A wet reckless driving charge applies in situations where individuals drive recklessly while under the influence of drugs or alcohol. A common situation where the prosecutor may offer a wet reckless plea is where your blood alcohol level (BAC) was only slightly above the legal limit of .08%.
Virginia laws do not statutorily define wet and reckless driving. However, people charged with reckless driving where alcohol or drugs are involved may plead to a wet reckless driving charge to reduce a DUI conviction's devastating impact.
What Is the Difference Between a Wet Reckless and a DUI?
There are several benefits to a wet reckless driving charge compared to a DUI in Virginia. Typically most wet reckless driving charges result in the following:
Shorter jail sentence;
Reduced penalty;
No requirement to install an ignition interlock device in your vehicle;
Possibly no suspension of driver license; and
Fewer attendance hours required in the Virginia Alcohol Safety Action Program (VASAP).
For this reason, many people charged with DUI often seek out the possibility of reducing their charge to a wet reckless. A DUI charge stays on your criminal and DMV record. However, a wet reckless charge does not.
All parties who plead guilty to a wet and reckless driving charge work with the prosecuting attorney to determine the terms of your guilty plea. Pleading a wet and reckless driving charge may only be available for first-time offenders. Whether to permit a wet reckless driving plea is strictly within the discretion of the prosecuting attorney. Therefore, even if you are a first-time offender, there are no guarantees that this option exists for you.
Many Virginia jurisdictions no longer permit wet reckless driving pleas. Therefore, it's essential to speak with a qualified traffic and misdemeanor lawyer to discuss whether it may be an option.
In situations where there is difficulty proving blood alcohol levels with certainty, many may seek to reduce their DUI charge to a wet reckless driving charge.
Contact Us
At Andrew Flusche, Attorney at Law, PLC, I vigorously defend traffic and misdemeanor cases for clients in Fredericksburg and surrounding areas. I work with all clients to understand their desired result. I will carefully review the facts of your case in determining how best to reach your goal. By limiting my practice to traffic and misdemeanor issues, I have developed and maintained professional relationships with officers and prosecutors in local courts. These relationships serve as a benefit in navigating the best path forward for clients. I am happy to work with you based on your convenience.
In many cases, I can handle your case through discussions over the phone and email. Additionally, you may never even need to enter a courtroom. Contact me today to discuss your case's facts to determine the best option for you!