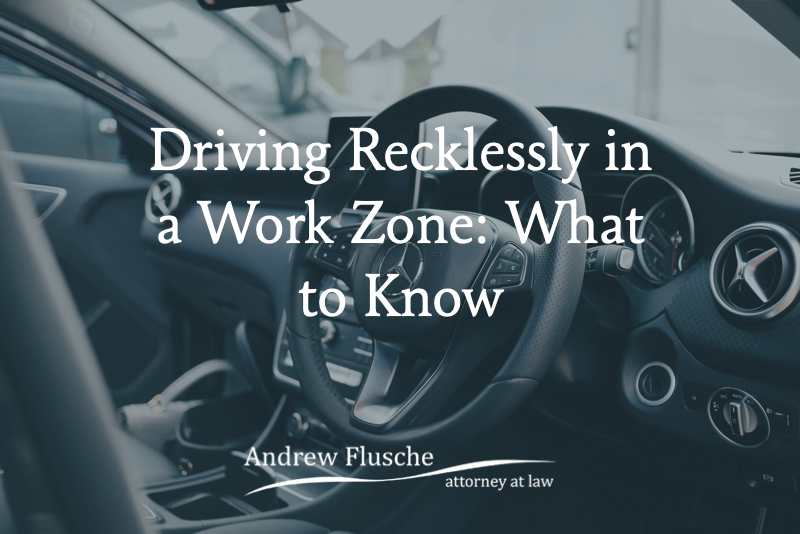 Like other states, Virginia regulates its roadways by implementing speed limits that drivers must follow when driving within the state.
Exceeding the posted speed limit can result in a speeding ticket for the driver, and enhance the danger faced by everyone on the road.
In Virginia, a driver commits reckless driving when they exceed the posted speed limit by more than 20 miles per hour.
Driving recklessly increases the risk of causing a car accident and limits the driver's ability to react in fast-developing situations.
According to the Virginia Highway Safety Office, approximately 22,479 vehicle accidents were speed-related crashes in 2020. Speed becomes an even more crucial factor in active construction zones.
Many times, the construction zone receives an alternative speed limit to the one originally posted for that location.
That is because the equipment, materials, and construction workers create a more dangerous environment for motorists and the workers themselves.
The danger is enhanced by drivers caught speeding in construction zones. In fact, 34 pedestrians sustained injuries while working on a Virginia roadway in 2020 alone.
According to the Virginia Department of Transportation, approximately 7.3 work zone crashes occur every day within the state.
If you received a traffic ticket for speeding in a work zone, you need an experienced traffic attorney to handle your case.
Though it can seem minor, Virginia speeding fines can result in significant financial hardship for criminal defendants.
Contact Andrew Flusche, Attorney at Law, PLC., today for your free consultation.
Reckless Driving in Virginia
As a general matter, Virginia defines reckless driving as operating a vehicle on any highway recklessly or at a speed or in a manner that endangers the life, limb, or property of any person.
More specifically, Virginia Code 46.2-862 states that a motorist who drives more than 20 miles per hour over the posted speed limit or over 85 miles per hour commits the offense of reckless driving.
Additionally, Virginia Code 46.2-864 states that any person who operates a motor vehicle on a highway under construction at a speed or in a manner that endangers the life, limb, or property of any person commits the offense of reckless driving.
As a class one misdemeanor, a reckless driving conviction carries the potential of up to 12 months in jail, a fine of up to $2,500, and a license suspension of up to six months.
Additionally, the DMV will assess six demerit points against your driving record.
Highway Work Zone Speed Limit Violations
Virginia Code 46.2-878.1 makes it a crime to operate a motor vehicle in excess of a maximum speed limit established specifically for a work zone.
However, the violation must occur when workers are present, and the work zone must place signs that display the maximum speed limit and the penalty for any violation.
Therefore, you cannot face charges if you violated a work zone speed limit when no workers were present. Violation of this statute warrants a fine of no more than $500.
As you can see, speeding in a construction zone results in a significantly lower fine than reckless driving.
The statute defines highway work zones as construction or maintenance areas located on or beside a highway and marked by appropriate warning signs.
Authorities can charge motorists with violations of both this statute and reckless driving.
How Can a Reckless Driving Lawyer Help?
A reckless driving attorney can advise you on steps to take to help mitigate your case, such as:
Calibrating your speedometer;
Enrolling in driver's education courses; and
Completing community service hours.
In some cases, an attorney can even get your charges dismissed entirely. In others, an attorney can negotiate for charges with less severe penalties.
For example, the fines for speeding in a construction zone are less severe than those imposed for reckless driving.
Many people receive a traffic ticket for speeding in a work zone. Don't make the mistake of showing up to court without representation.
I frequently meet individuals who regret not hiring an attorney to defend their reckless driving charges.
Did You Get a Traffic Ticket for Speeding in a Work Zone? Contact an Experienced Attorney Today
Hiring a reckless driving lawyer can mean the difference between a guilty conviction and having your charges dismissed.
My professional relationships with local law enforcement and prosecutors help me navigate my clients' cases toward their desired results.
I have represented thousands of clients with their Virginia criminal charges.
I tackle all of my cases with a result-oriented approach looking to have your case dismissed or your charges reduced.
Contact my office today to set up your initial consultation.